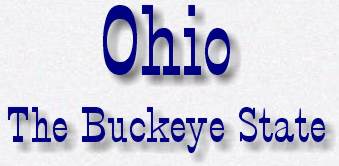 On March 1, 1803 Ohio was admitted to the Union as the 17th state.
"No colony in America was ever settled under such favorable auspices as that which has just commenced at the Muskingum. If I was a young man, just preparing to begin the world, or if advanced in life and had a family to make provision for, I know of no country where I should rather fix my habitation." — George Washington (Ohio Defined: Ohio Statehood)
Welcome to the Ohio American Local History Network (ALHN) pages. My name is Leona Gustafson and I am the host for the Buckeye State. All ALHN sites are hosted by independent webmasters who share a love of history and/or genealogy and have a desire to share with you.

To learn more about the ALHN simply click on the logo at the top of this page. If you would like to host a county in the Ohio ALHN send an email to me at . Before writing, please, review the Requirements for New Hosts/Coordinators.







You Can Help!

Even if you aren't interested in hosting a county you can help as long as you share an interest in history and/or genealogy. How can I Help?
---


I hope that you will come back often as this site will grow considerably over the next weeks and months.



(This page may not reflect the most recent additions to the various pages contained on this site.)
Home | Ohio Counties | Ohio Biograpies | What's New?
To Protect & Serve | Ohio Military | Ohio Photo Album
Vintage Ohio Postcards | Crime & Punishment | Early Institutions
Ohio Fun Facts | Lookup Volunteers | Ohio Resources
Ohio Book Shelf
---
Background Design
by



Barbara's Bordered Backgrounds


Copyright © 2004-2017
No copyright is claimed on non-original or licensed material.

The names American Local History Network, ALHN and AMLHIST are trademarksTM
of the American Local History Network, Inc.