FRONT: (Top left) War Bonnet of Chief Black Cole
(Bottom left) Pioneer Gold Mint Machinery
(Top right) Model of Ox-drawn Covered Wagon
(Bottom left) State Museum, Denver
Home of the State Historical Society of Colorado, Immediately South of the State Capitol
(ca. 1930 - 1945)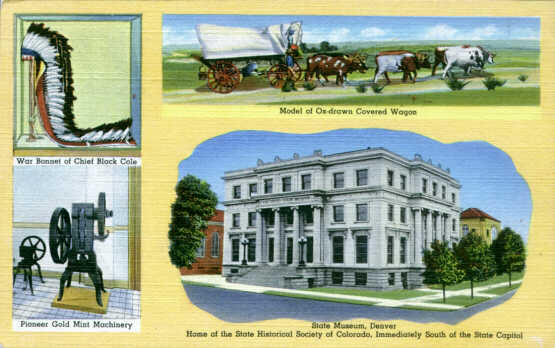 BACK: THE STATE MUSEUM
Home of the
STATE HISTORICAL SOCIETY OF COLORADO,
houses historical relics and mementos, Indian
artifacts and handiwork, and a historical
library. Beautiful, authentic dioramas portray
phases of Colorado History.
This museum, immediately south of the
State Capitol, is open daily; admission free.