CAPTION (at bottom):
Birdseye View, Denver, Colorado

OTHER FEATURES (various points of interest named):
MT. HOLY CROSS-13,978 FT.; MT. EVANS-14,260 FT.;
ECHO LAKE-10,500 FT.; LOOKOUT MOUNTAIN-7,342 FT.;
GRAY'S PEAK-14,341 FT.; DENVER MOUNTAIN PARKS;
BERTHOUD PASS-11,300 FT.; RADIUM SPRINGS; JAMES
PEAK-13,250 fT.; PROPOSED MOFFAT RAILROAD TUNNEL
(The Moffat Tunnel was started abt. 1922 completed in 1928.); ARAPAHOE
PEAKS-13,506 FT.; BOULDER GLACIER REGION; MT. AUDOBON-
13,223 FT.; ROCKY MT. NATIONAL PARK; DENVER UNION
STATION (at end of 17th Street); LONGS PEAK- 14,235 FT.; ESTES PARK.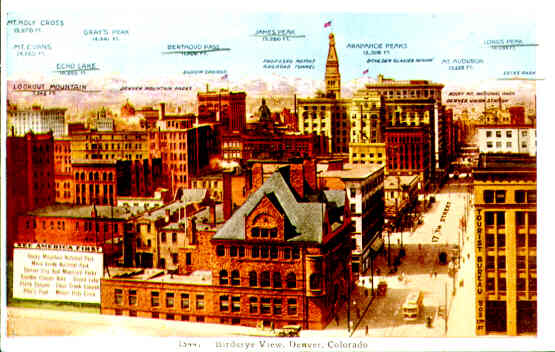 The building in the lower center is the DENVER CLUB.
The bill-board in the lower left corner of the card says:
SEE AMERICA FIRST
ROCKY MOUNTAIN NATIONAL PARK
MESA VERDE NATIONAL PARK
DENVER CITY AND MOUNTAIN PARKS
BOULDER GLACIER AREA - GRAND LAKE
PLATTE CANYON - CLEAR CREEK CANYON
PIKE'S PEAK - MOUNT HOLY CROSS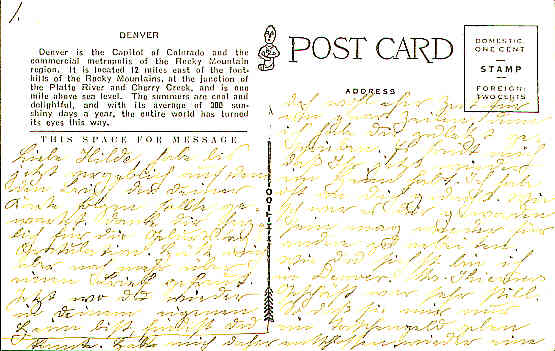 CAPTION:
DENVER Denver is the capital of Colorado
and the commercial metropolis of the Rocky Mountain
region. It is located 12 miles east of the foot-
hills of the Rocky Mountains, at the junction of
the Platte River and Cherry Creek, and is one
mile above sea level. The summers are cool and
delightful, and, with its average of 300 sun-
shiny days a year, the entire world has turned
its eyes this way.
NOTE: I believe the message is written in German, but don't
know for sure.